Encourage | Enrich | Empower
Welcome to Our Lady of Lourdes Catholic School!
Founded in 1962, the school is named after a Marian apparition that occurred almost a hundred years earlier in France.
The story of Our Lady of Lourdes is one of humility, courage and transcendence. It is the story of a little girl, known for her disabilities, her lack of language skills and virtually non-existent academic abilities, who because of her child-like faith, was honored to be the messenger of Christ for the world. What a wonderful story of hope for children.
The mission of Our Lady of Lourdes Catholic School is to "change lives". With this objective in mind, the staff and parents work together to cultivate the gifts given uniquely to each student. Our Lady of Lourdes Catholic School provides many opportunities to shape students into the leaders the world needs.
Every child at Our Lady of Lourdes Catholic School is challenged daily to be his/her best spiritually, academically, emotionally and physically. Our teachers, through modeling in a culture of respect and responsibility, nurture our students. Our programming is recognized for producing students of excellence and includes enrichment opportunities for all.
The campus is located on 34 acres that were once part of an orange grove. The students, ranging from ages 3-14, are safe in our secure campus, nestled in the heart of the city. Hot lunch is offered daily. Before and After School Care is available to all registered students.
If you would like more information or would like to schedule a visit on our campus, please call the office.
I look forward to meeting with you!
In Christ,
Dr. Anne Penny
Our Lady of Lourdes, pray for us!
Over Fifty Years of Catholic Formation in Dunedin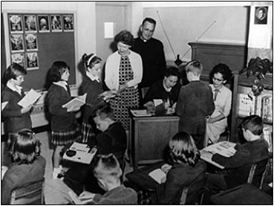 Our Lady of Lourdes School opened on September 4, 1962, with seventy-two students in Kindergarten through fourth grade. The following year grades five and six were added; grades seven and eight were added in the next two years. Because of space constraints and because the state of Florida didn't require Kindergarten attendance at this time, the Kindergarten program was dropped.
The founding parish pastor Monsignor William W. DuBois served as principal with a staff of lay teachers until August, 1965 when five Sisters of Notre Dame from Chardon, Ohio, arrived to help staff the school. There were 205 students at this time.
From 1965-1994, six Sisters of Notre Dame served as principals of our school. In June, 1994, Our Lady of Lourdes had its first lay principal. The transition was smooth with the spirit and traditions of the school continuing as strongly as ever.
To accommodate the increased enrollment of the school, portable buildings and a trailer were purchased in 1965. The trailer was used as a library until 1977. Two of the portables, which were located on the site of the present grades 5-8 portion of the school building, were used for twelve years for grades 1-4; the other two portables were used for lavatories, a teacher work room, and an art room. The art room was converted to a science room in 1972 when a full time science teacher was hired.
When the new church was completed in 1977, grades 5-8 were moved into the new classrooms in the old church building and grades 1-4 were moved into the former 5-8 classrooms. The portable buildings were then used once again for art, which had been taught in the classrooms in recent years and for tutoring programs or as meeting rooms. Kindergarten was reintroduced to the program and held in one of the portables. In 1978, one of the portables was remodeled to be used as a library/media center while the trailer which had been purchased in 1965 for use as a library was remodeled for tutoring and for a gifted program called Alpine (Advanced Procedures in New Learning Endeavors).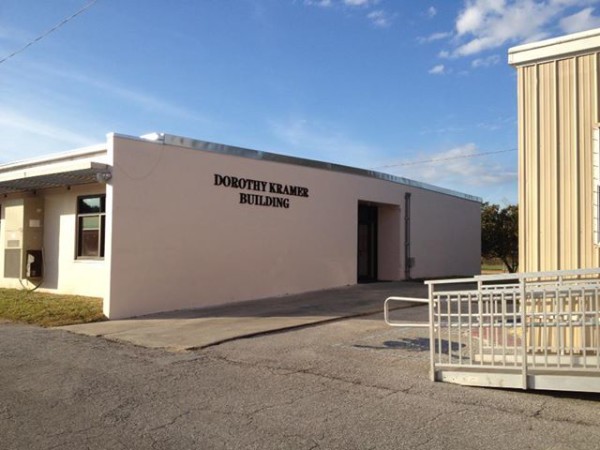 In 1980, to accommodate construction for a new building which would house grades 5-8, lavatories, dressing rooms for P.E. , and a teachers' room, the portables were relocated to the site where our new office wing is now located. The corridor of the original building was closed in so that the new classrooms could be connected to the original building to form one unit. The vacated classrooms in the old church were converted to a large kitchen, a science room, a music room, and a media center.
In 1988, the music room was converted to a computer room. The portables were once again used for art and music. A resource teacher was added to the staff to head the Seton Center Program for the Learning Disabled and the Gifted. In addition to using the Alpine trailer, renamed Seton Center, the resource teacher used an area in the portables for small group work.
Kindergarten remained in the portables. In 1992, an EC4 program was added and located in the portable that had once been the library. A portable classroom that had been purchased in 1989 from the parish for a guidance office with a part-time guidance counselor was located with the Seton Center on a walkway just outside the grades 7 and 8 entrance to the building.
The portables were torn down in 1995 to make way for the new office wing of the building which was joined to the Cafeteria. The new office area includes a reception area, a conference room and offices for the administrative staff. Also included in this wing are Kindergarten, EC4, Advanced Math, and art and music classrooms.
Our sports program began in the fall of 1968 with the clearing of some property to provide for athletic fields. The Athletic Booster Club funded a new baseball diamond and football field in 1969. The boosters also provided coaches and funds to hire physical education teachers.
In 1988-89, the PFA sponsored the redesign and improvement of the play areas. A new developmental piece of equipment designed by USF was built by parent volunteers.
In July of 1997, the school converted the old school office building into a computer lab. Twenty computers were installed, and students visit the computer lab at various times in the week for technology instruction. In addition to computers in the lab, in 2004 all teachers were issued their own laptop computer.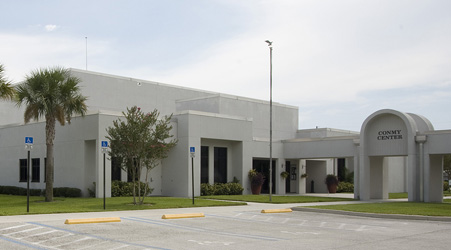 The Father Conmy Center was built in 2004 for the parish and school community. The large multi-purpose building is used for PE classes, theatre productions, school assemblies, and sporting events. The parish utilizes the building for a multitude of activities including annual Saints & Sinners Ball, a formal auction and gala to benefit the children of our school.
In the spring of 2007, the school library underwent a complete renovation. New windows, ceiling, flooring, shelves, tables and chairs were added. The library is now a beautiful, tranquil place enjoyed by all.
Thanks to the generosity of patrons at the Saints & Sinners Ball, new playground equipment was purchased and installed in subsequent years, 2010 and 2011. The new play equipment caters to the variety of age and interest groups of our student body.
During the summers of 2011 and 2012, many renovations took place on the school buildings. With the generous philanthropy of the Kramer Bequest, the entire North Building received new windows and exterior doors during the summer of 2011. Additionally, the bathrooms and locker rooms underwent a huge transformation with brand new amenities, tile, and paint. The entire parking lot was resurfaced in 2011, and the following summer underwent additional construction during a drainage project.
In 2012, the North Building received a beautiful makeover! All classrooms received new paint and floors in addition to several new white boards and bulletin boards. When the construction finished on that building, our pastor Father Gary and principal Mr. Fulford decided to re-name the building, "The Dorothy Kramer Building," in memory of the remarkable woman who's bequest enabled these wonderful changes.
The summer of 2012 also brought the addition of two new classrooms to Our Lady of Lourdes. Crews brought in two portable classrooms to the courtyard area just north of the playground to house the expanded Kindergarten and EC4 classes. The expansion brought a new philosophy to our Early Childhood programs, with students rotating between multiple classrooms, enabling greater small-group instruction with classroom activities.
During the fall of 2011, OLL launched an innovative technology initiative aimed at bringing classroom technology into the hands of our students. The One-to-One iPad Pilot Program gave each student in sixth grade class his or her own iPad for school use. Middle School teachers implemented the tool as supplemental instruction to coordinate with our curriculum, and students use the technology for note taking, test taking, and everything in between. In the fall of 2012, OLL expanded the program to include all of Middle School on the One-to-One plan, as well as incorporate iPads into EC4, Grade 1, Grade 2, and Grade 5 for small group and centers work. The iPad Program at OLL gives students a unique educational experience that empowers self-directed, realtime learning. With access to limitless resources and creative ways to demonstrate knowledge, students are on their way to discovering passions and skills that will propel them towards careers of the future.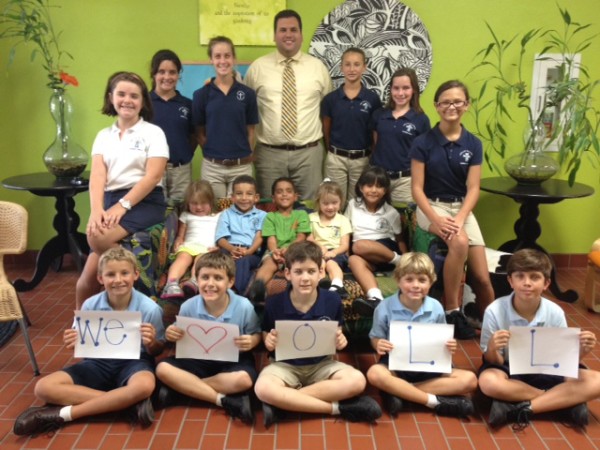 While our school has continued to change and evolve over the course of fifty years, many constants have remained. In the hearts of our pastors, priests, and administrators remains the call of the Good Shepherd, a welcoming and compassionate spirit that attracts new members to our community and affirms those who have grown up at our parish. In the hearts of our teachers and staff remains the gentleness and patience to educate each individual according to his or her own needs. In the hearts of our parents and community remains the faith and trust in Catholic education as the greatest method of formation in Christ. And in the hearts of our students remains the joy of the Risen Christ, for as he told his disciples, "Let the children come to me, and do not prevent them; for the kingdom of heaven belongs to such as these" (Matthew 16:14).
Frequently Asked Questions
Does my child have to be Catholic to attend Our Lady of Lourdes (OLL)?
Our Lady of Lourdes is a welcoming community, open to children of all faiths. We make every child feel welcomed and loved. All are expected to give respectful attention at religious services and take an academic course in Catholic religion.
Can I afford to send my child to Our Lady of Lourdes?
We believe an excellent Catholic school education should be available to all who seek it. OLL is surprisingly affordable. For about $180 per week, your child will receive an outstanding Catholic education. We offer several financial programs to those in need. For more information, please contact the school at 727-733-3776 to learn more about the financial aid packages available.
Is the academic program comparable to that of other schools?
Our Lady of Lourdes is accredited by the Florida Catholic Conference. OLL student test scores indicate that they consistently score at or above other schools in the Diocese, in the State and in the Nation. Furthermore, the curriculum of OLL meets or exceeds state of Florida standards. Our graduates are accepted into the high schools of their choice and continue to excel, due to the preparation they have received at OLL.
Are the teachers qualified?
Every member of the professional staff at OLL meets Florida Catholic Conference Accreditation requirements. In addition, they have received training in various methods of educational instruction. Every Religion teacher is also certified as a Catechist by the Diocese of St. Petersburg. The teaching staff is experienced with an overall average of 13 years in the classroom.

What grades are levels are offered at OLL?
Our school offers a 3 year old program and a pre-kindergarten, which is VPK certified, to grade 8. Unlike other programs that require children to move from school to school at sometimes very volatile stages of their lives, OLL students have a consistent program, allowing them stability and consistency in their years of elementary education. This is an opportunity for your child to begin attending a school at an early age and grow in confidence in the same safe and nurturing environment for 11 years.
What programs are available at OLL?
Our Lady of Lourdes offers superior academics, solid Catholic foundation with daily Religion classes and weekly school Liturgy, VPK (Voluntary Pre-K), extended day program and enrichment clubs, a daily fresh and healthy hot lunch program, excellent fine arts program, competitive athletic program for 5th through 8th grade, leadership and social service co-curricular activities, advanced academic offerings for math and science, 6th, 7th and 8th grade Buddy Program with Kindergarten and Early Childhood.
What opportunities are available for parental involvement?
Parents are always welcome at OLL. Parents are the primary educators of their children and serve as the role models to their faith, volunteering in all aspects of our school. Some of the opportunities include: participating in the Home and School Association, coaching after school athletics, serving in the media center, art department, volunteering for a variety of fundraising and community events, and sharing personal areas of talent in a variety of ways to aid in the growth and development of the children.
How does my child become a member of the OLL school community?
We would love to show you first-hand what makes our community so special. We have a proud tradition of academic excellence in a faith-filled environment. Please call the school office at 727-733-3776 for an information packet and to set up a tour of our campus. You may also visit us on the web at: www.myoll.com. Come and see what makes our school great!
Tuition & Financial Aid
Registration for the 2019-2020 school year is underway. Tuition rates for OLL parishioners, as well as non-parishioners, are outlined below. A sibling discount applies.
PARISHIONERS
Families who are attending Sunday Mass weekly and who are registered in the Parish and supporting the Parish through the use of the parish envelope system or automated parish withdrawal.
1 Child ……….. $7,150
2 Children … $13,700
3 Children … $20,250
4 Children … $26,800
NON-PARISHIONERS
Families who are not registered or supporting the Parish.
1 Child ……….. $8,950
2 Children … $17,300
3 Children … $25,650
4 Children … $34,000
FEES
A non-refundable registration fee of $375.00 per family is due prior to February 11, 2019. After this date, the registration fee for current families increases to $475.00. A program fee of $225 per student ($35 HSA, $125 Technology, $50 Campus Improvements, $15 Classroom Dues) is due by May 24, 2019, otherwise it increases to $325 per student.
TUITION PAYMENT POLICY
Tuition payments are paid in one of three ways, depending on the family's preference:
1) Annual: Due on or before July 19th (3% discount given for payment in full)
2) Semi-Annual: Due July 19th and December 16th
3) 10-Month or 12-Month Plan via FACTS – an automatic withdrawal plan. Tuition payments and schedules are set up on www.factsmgt.com. All families choosing an extended payment plan are required to initiate an online Tuition Payment Agreement via FACTS.
TUITION ASSISTANCE
Families in need of tuition assistance may pursue grants, scholarships, and financial aid from various sources.
Step 1: Apply online at www.factsmgt.com to be considered for any financial assistance. This must be done by March 1st in order to be eligible for those scholarship opportunities that have an April deadline.
Step 2: Once you have submitted your application to www.factsmgt.com, a committee will review your information to determine if you are eligible for any outside assistance (Mary C. Forbes Scholarship, George and Mary Kremer Grant). They will also make recommendations for our in-house assistance, including the Donoghue and Huff Scholarships, as well as the Catholic Foundation Tuition Aid Grant Program.
Step 3: Determine your eligibility for Step Up For Students –this is an income based scholarship for families who have a child/children entering Kindergarten through 12th grade. For more information, see their website at www.stepupforstudents.org. If your child currently receives this scholarship, you will need to re-apply.
Any family who receives tuition assistance will be asked to sign a covenant with the school. This Covenant Letter will be presented to those families by the school principal.
Dear Applicant,
Welcome to Our Lady of Lourdes Catholic School! We are pleased that you have inquired about our excellent Parish school. We are here to help you, as you make this critical decision for your child/ren.
We take pride in our school and want you to feel confident that OLL fits your needs. Our mission states: Our Lady of Lourdes Catholic School, as part of the parish faith family, builds a strong foundation by developing the unique, academic, physical, social, and spiritual gifts of its students, empowering them to live the mission of Jesus. Our faculty, staff, students, and families believe in and live this mission.
The Application for Admission should be submitted with your $375.00 non-refundable (if accepted) registration fee. An additional program fee of $200.00 per child must be submitted by May 26th or prior to the first day of school, if registering late. Included in this fee are dues that help to support basic classroom and social activities, campus improvements, as well costs to help cover new curriculum and technology. If Our Lady of Lourdes is your school of choice, we strongly encourage you to visit our online Admissions Portal below and start your Application.
If you have any questions or would like a tour of the school, please feel free to contact the school office at (727) 733-3776 and we will happily accommodate you.
Request More Information & Schedule a Campus Visit
[contact-form-7 id="109"]